Focused conversations
Unwelcome distractions and noise are a thing of the past with clear, focused conversations.
Personal inbox
Stay on top of the conversations that matter to you with your own dedicated inbox.
Actionable tasks
Make sure all those tasks that come up mid-conversation don't get forgotten about.
Get more done
Keero makes it easier for teams to work effectively, regardless of everyone's location.
Teams do their best work with Keero
More than just another business messaging app or task management tool, Keero is a single space that offers all the essentials you need to work together and achieve your goals.
By facilitating more meaningful, focused conversations, Keero helps you and your team do more of what is important, and less of what is not. Keero is designed to support the way teams and individuals actually work, removing unnecessary distractions and increasing accountability.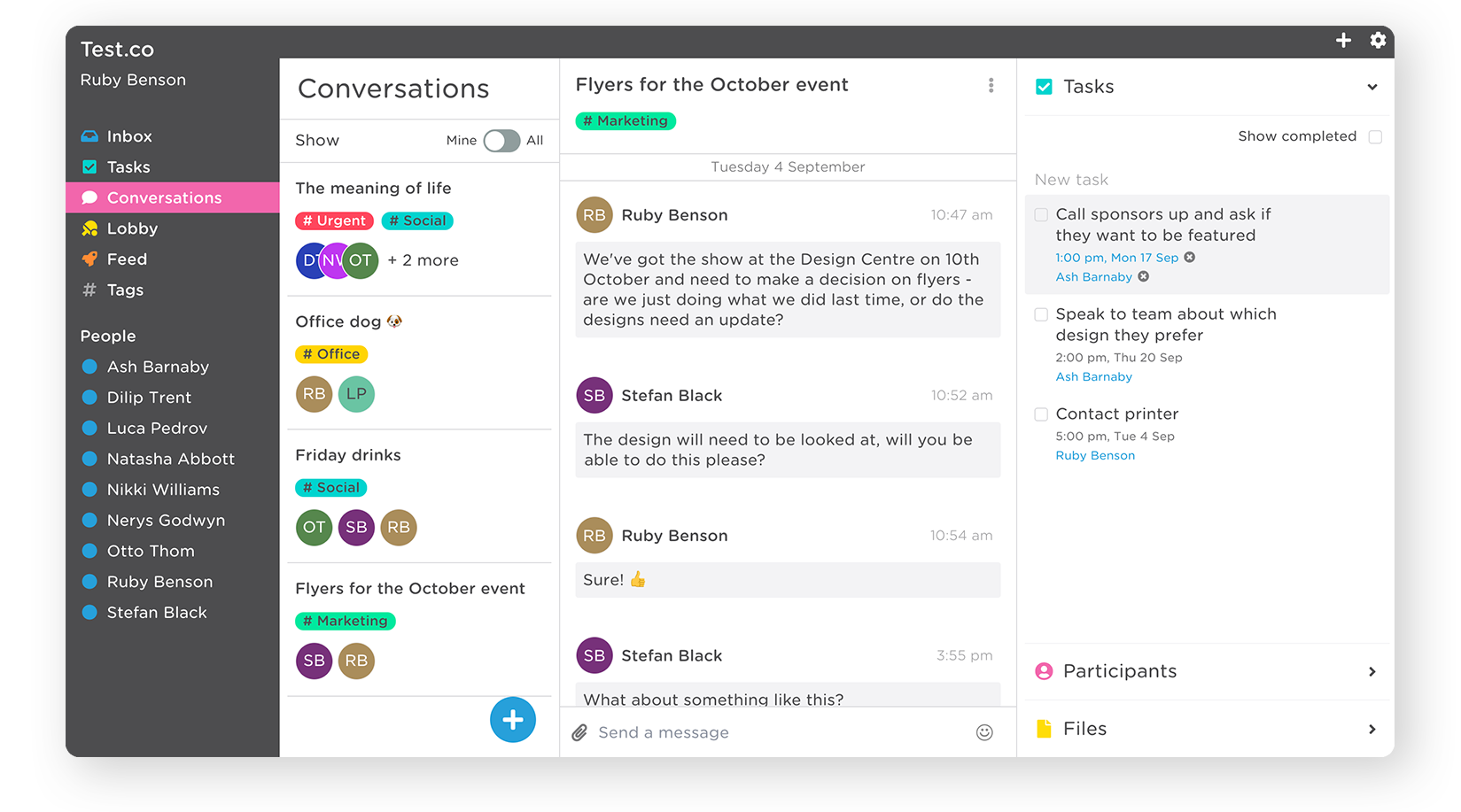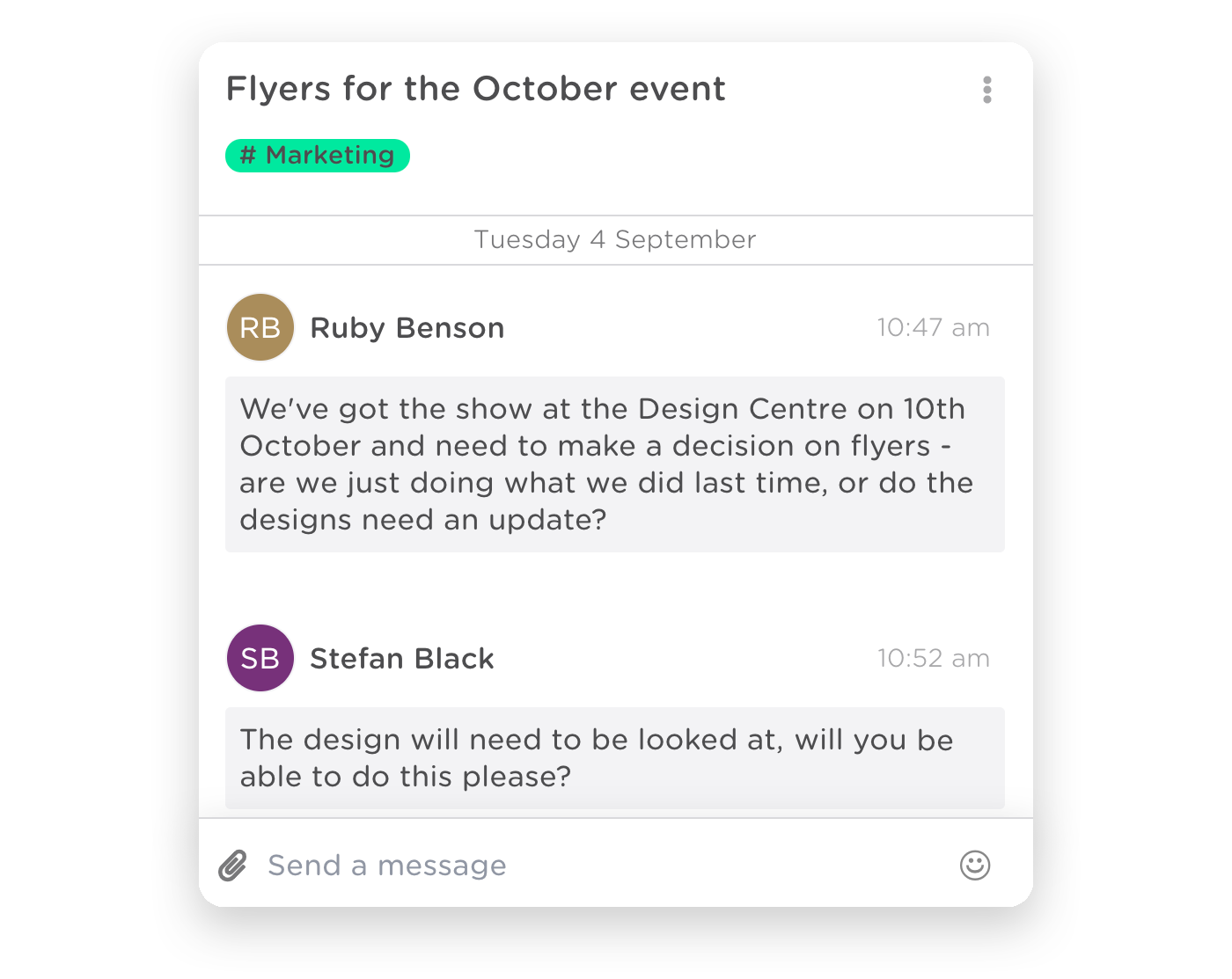 More focused conversations
We've talked to teams to find out how they want to have online conversations in order to maximise productivity, motivation, and collaboration, and have developed a space that supports clearer communication and more focused teams.
Key features:
Create new conversations on specific topics as and when they arise
Join the conversations that matter to you
Loop people in with a simple @ mention
Upload and share files by dragging and dropping
Conversation over? Stay clutter-free by archiving it!
Actionable tasks
We know how easy it can be for tasks to get lost in conversation, so before you know it, deadlines have passed and no-one knows what's going on. Keero lets you initiate tasks within conversations and assign these to teammates so it's easy to see who's accountable.
Key features:
Create tasks as they naturally occur within the flow of a conversation
Include conversation snippets so it's easy to see the context
Assign anyone in the conversation to the task
Ensure everyone knows what needs doing (and when)
Easily see what tasks are blocking progress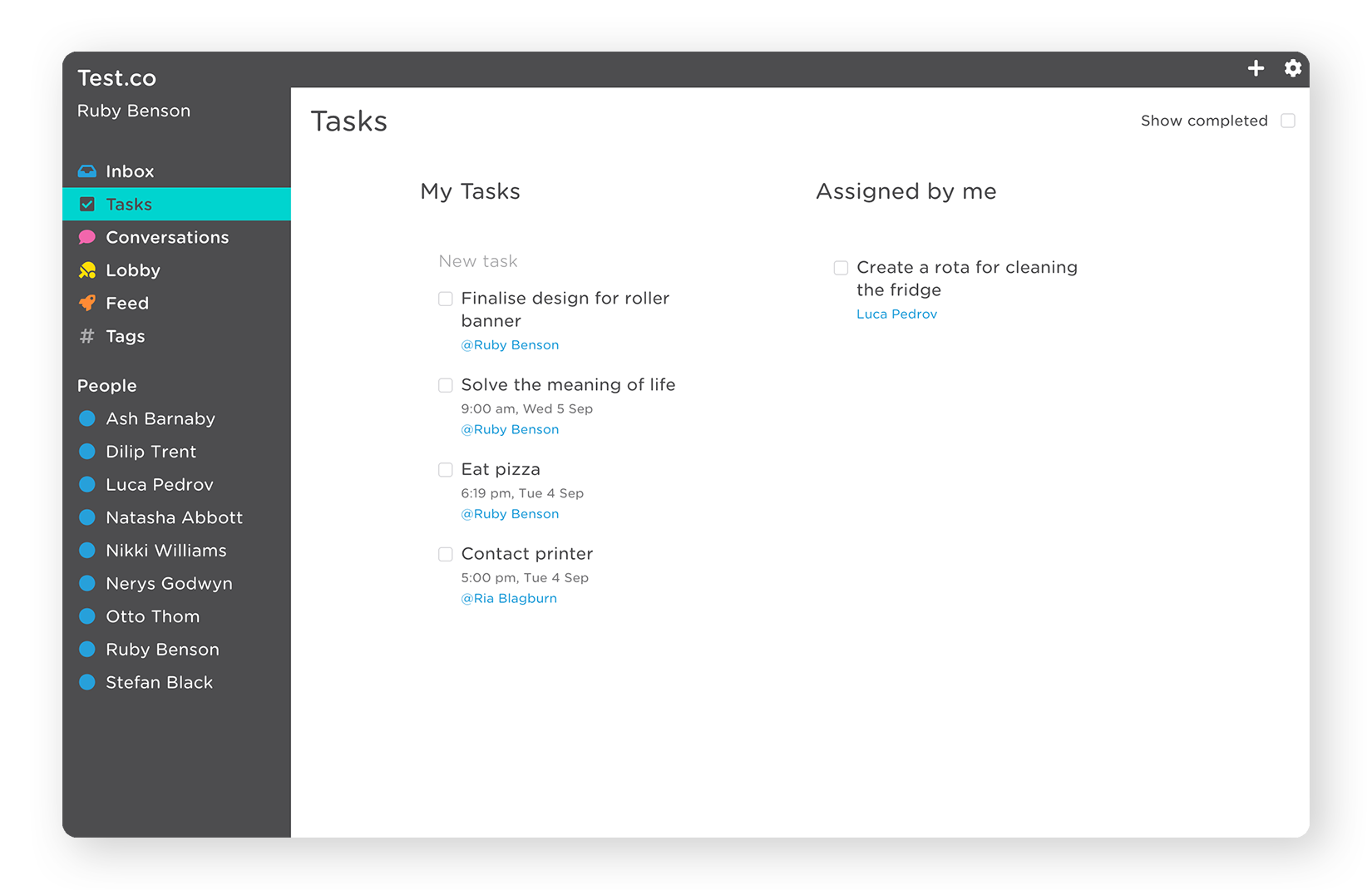 Other features
Keero is not just another team messaging tool or task management app; it's a team collaboration space that has all the essentials you need in one place to collaborate and deliver outcomes.
Focused conversations
Teams can start conversations around topics specific to their business, which allows everyone to stay on track and keep the discussion productive.
Personal inbox
By joining the conversations that matter to you, you can stay focused! Your personal inbox cleverly collates everything you're involved with in one place.
Actionable tasks
Create tasks directly from conversations, making it easier to understand the context behind the task and reducing the risk of things slipping through the cracks.
Tag conversations
We've introduced tagging, so you'll know exactly what the discussion is about, and the powerful search will make it easy to find the conversation long after you archive it.
A place for chat
Need to know if you're running low on milk? Fancy heading for a drink after work? Use the Water Cooler for all the general chit chat that takes place throughout the day.
Automated workflows
Set up workflows based on conditions and automatically tag conversations based on keywords, or nudge people if a conversation's gone quiet.
"As a freelancer with several clients, I'm well aware of the weaknesses of business communication tools. It's so hard to sift through the noise and get to the conversations and tasks that are actually relevant to me. I introduced a few clients to Keero and it's made it so much easier to get stuff done! I can prioritise the conversations that are important to me, and being able to create and manage tasks in one place has definitely decreased the amount of things that fall through the cracks."