Tablets have been available for more than 20 years, although most early models were cumbersome and underpowered. It wasn't until Apple released the iPad that tablets became a serious business tool. Communication was key to their success; the iPad offered WiFi and cellular connections, which was the essential missing piece on the puzzle.
Over the last 5 years, the iPad and tablets have become commonplace in offices all over the world, complementing or replacing our laptops. If you're stuck without a smartphone and you need to speak on the phone, you can use your iPad or tablet to make business calls with Nimvelo Phone, providing you're connected to the internet.
How it works
Nimvelo Phone lets you talk using an app on your iPad or tablet. First, you need to do a little setting up.
In order to use your iPad or tablet as a phone you'll need a quiet spot to talk or, ideally, a headset with a mic. You can use a simple set of earbuds or a computer headset with a mic attached. Most supermarkets, online retailers, and airport shops sell something that would be suitable.
You'll also need a good quality internet connection over WiFi. Alternatively, if your iPad or tablet has 4G/LTE cellular connectivity (and a data plan), you should be able to make calls on the go, without the need for WiFi.
Finally, you need a SIP compatible softphone app. We recommend Cloud Softphone for iOS and Android. Other softphones are available for different platforms.
Using your number
1. Install the free Cloud Softphone app.
2. Sign in with the username username@nimvelo and your chosen password.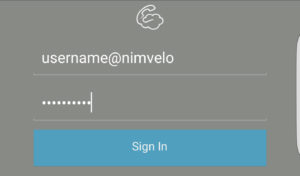 Making or receiving a call
Once you're connected to the internet, open your softphone app. If you're in a noisy environment, make sure your headset is connected before you continue.
To dial a contact, dial the number into your softphone keypad, or use the contacts or recent calls list. Tap the phone icon to dial, as you would with your normal smartphone dialler.
If a call is received on your extension, an alert will appear from the softphone. Connect your headset and tap to answer.
That's all there is to it.
Powerful business VoIP
Nimvelo's straightforward portal makes it easy to build your ideal business phone system. You can receive calls on a connected device, forward calls to a landline, or if you're away on business, you can have your incoming calls pushed to your hotel room phone overseas. To handle calls effectively, you can use call queues and IVRs, personal or shared mailboxes, and time-based rules to control when calls are delivered to you, and when they're routed elsewhere.
Whether you travel with your phone in your pocket, or prefer to work solely from a tablet, our professional VoIP services suit the way you do business. Set up your account today and you can take a look around; no upfront cost, no pressure.