It's official. We're rebranding.
As of next week – 27 July 2015 – Sipcentric will become Nimvelo.
What is that beautiful logo? Great question. That right there is the Nimvelo logo. It is our new trademark and the core of our visual identity moving forward. It represents everything about us, our values and we hope you'll agree, perfectly matches our personality.
But your service is top-notch. Why the rebrand?
Since creating Sipcentric nearly five years ago, we've been on an incredible journey. We have seen growth beyond anything we first imagined and all the while, have been rewarded by seeing hundreds of new businesses get off the ground each and every year.
We are part of an entrepreneurial generation. Entry costs and barriers are at an all-time low and startup incubators and growth accelerators are springing up everywhere. This excites us immensely and we believe ambition and entrepreneurship will continue to play a key role in driving our economy forward.
Six months ago, we started to think about how the Sipcentric brand, visual identity and product range could be improved to further drive our own growth and to continue on our wonderful journey. We knew where we needed to be – we just weren't sure how to get there. That is, until we met our friends at ORB.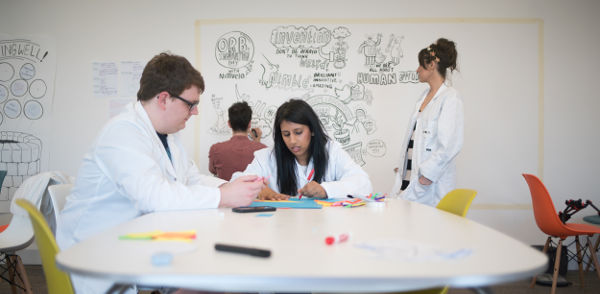 Same great service, shiny new brand
After extensive market research and speaking to existing customers and partners, one thing was clear – our current brand was not outwardly reflecting the high levels of service and quality for which we are known. Being part of an industry and marketplace as overcrowded as ours, that had to change.
Secondly, we wanted to go beyond VoIP and look at the other ways in which small business teams communicate between themselves and with their customers. Although the existing name and brand has served us well for nearly five years, it was becoming restrictive and we were quickly outgrowing it.
So we made the decision to embark upon an even bigger and better journey. Six months on, we're very happy we did.
Visual thinking
We kicked off with a fun and very productive drawing board session, in which we started to understand more about who we are and what makes us unique. Over the course of several hours, we uncovered some very interesting things and revealed a few home truths about ourselves – not least of which, we're hopeless at drawing!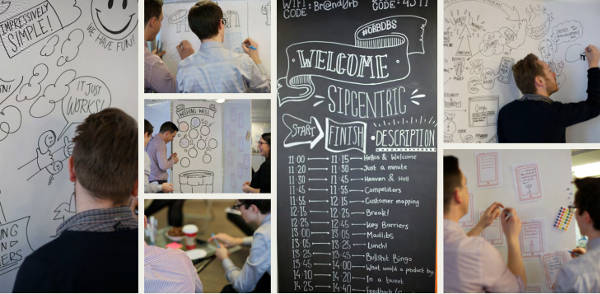 How did we decide on the new name? Well, all of our customers said one of the key benefits of using our services was just how flexible we are. We're a forward thinking and innovative company which always goes above and beyond to deliver exceptional service and find a solution. We realised that such an agile approach is what defines entrepreneurial business and makes it so appealing.
With this in mind, we started to look for words that reflected these values whilst still incorporating some of our techy professionalism.
We are extremely nimble. We champion the spirit of invention and developing new ideas. And of course, we help people say hello. The rest, as they say, is history!
Nimble + Invent + Hello = Nimvelo.
---
About Nimvelo
We're Nimvelo. We reinvent technology to get your business off the ground.
We look at the ways businesses interact with their people and use the latest technology to make things simple, beautiful and more effective. We innovate and mix things up to make technology useful and accessible for new and growing businesses.
Businesses run on effective communication. Whether it's saving time, money or effort, we invent more effective ways for businesses to operate.
Nimvelo. Inventing new ways of working.
Looking forward
We hope you'll love the new brand as much as we do and that you'll continue to join us as we enter a new stage of our journey.
Not only have we updated our brand, we've been working hard on a completely new and much improved portal – which we'll also be releasing next week. Not only that, we have lots of other exciting developments in the pipeline and can't wait to start sharing them.
In the meantime, we'd really value your feedback and welcome any comments regarding the rebrand or indeed anything else – feel free to get in touch either by email, on Twitter or by picking up the phone and saying hello to Nimvelo!