The Nimvelo team is constantly working on ways to improve our system. We always listen out for suggestions from our customers that can make our service even better (and you're more than welcome to give us a shout if you have any ideas of your own). Recently, our crack team of developers have been working hard to make some changes to Nimvelo Phone Analytics in order to give our customers data that's truly useful to them.
New metrics!
The eagle-eyed amongst you may have noticed we have some new metrics in Analytics. We've developed these to make it easier for companies to understand the story behind their call data, as this can be used to support important business decisions and create an even better experience for customers and staff handling calls.
Wait duration and call duration:
Want to know how long your customers are waiting in a queue before being able to speak to a member of your team? Well you now can! Nimvelo Phone Analytics not only shows you the average wait duration time, but the minimum and maximum times too. You might find that if queue times are long you need to consider looking into hiring another team member to answer calls.
You can also have a look at the length of your longest and shortest calls are which might help you determine that the longer the call might be where the sales are. Or if your customer support is going on for far to longer than expected – what you might need to change to help customers out in a different way.
You might also notice that under the advanced settings you're able to set the minimum and maximum durations for call length. For example, if you only wanted to see calls that lasted more than 20 seconds to get rid of any unproductive calls then you could do so, meaning your data wouldn't be diluted by irrelevant calls.
Minimum and maximum costs:
When you top up your calling credit you might be hoping that it lasts a certain amount of time. Now you'll be able to see how much each call is costing – if you realise a lot of your calls are costing you more than they should, you might consider looking into call bundles.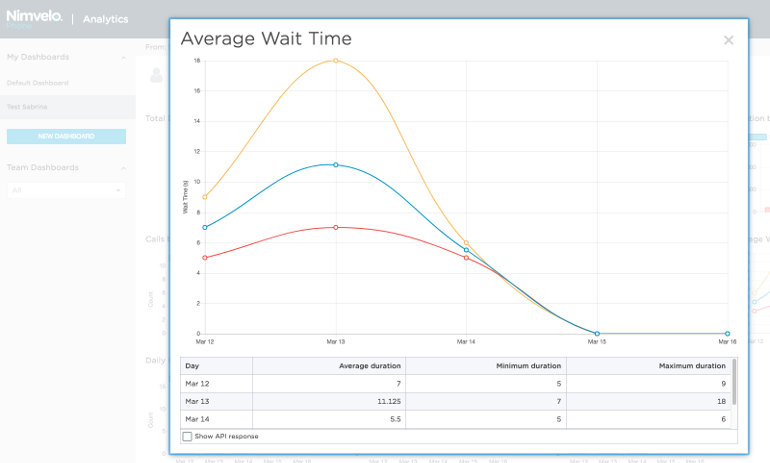 Incoming numbers
If you've got more than one incoming number, this development may be music to your ears! We've added another dimension to analytics which means you can now view data corresponding to each individual phone number rather than one set of data for your whole Nimvelo Phone account..
This is perfect for companies that want to spin up temporary numbers for marketing campaigns as it makes it super easy to measure the effectiveness of specific activities. For example, if you're running a promotion for a limited time, adding a new incoming number will keep your main line free – and the new changes to Analytics mean you can quantify the campaign's success of using metrics like call volume.
Enlarged view of charts
Teams are now able to enlarge the charts on their dashboard to make it easier for them to display the information visually in the office. For example, if you have a screen displaying your latest call analytics, everyone can stay in the loop regarding metrics like call duration and average wait time.
Let us know in the comments below how you get on with our new set of metrics – we'd love to hear how they've helped you, or if there are any further improvements you'd like to see us develop!